Estonian Police and Border Guard Board (PBGB)
They host the application environment and manage all aspects of your application review.
If you need help submitting the application, consult with the FAQ below or contact them at ppa@politsei.ee
E-Residency project team does not have access to the applications or application progress updates. For application status updates, read here.
If PBGB approves your application, your e-Residency kit will be sent to an Estonian embassy, consulate or other official pickup location.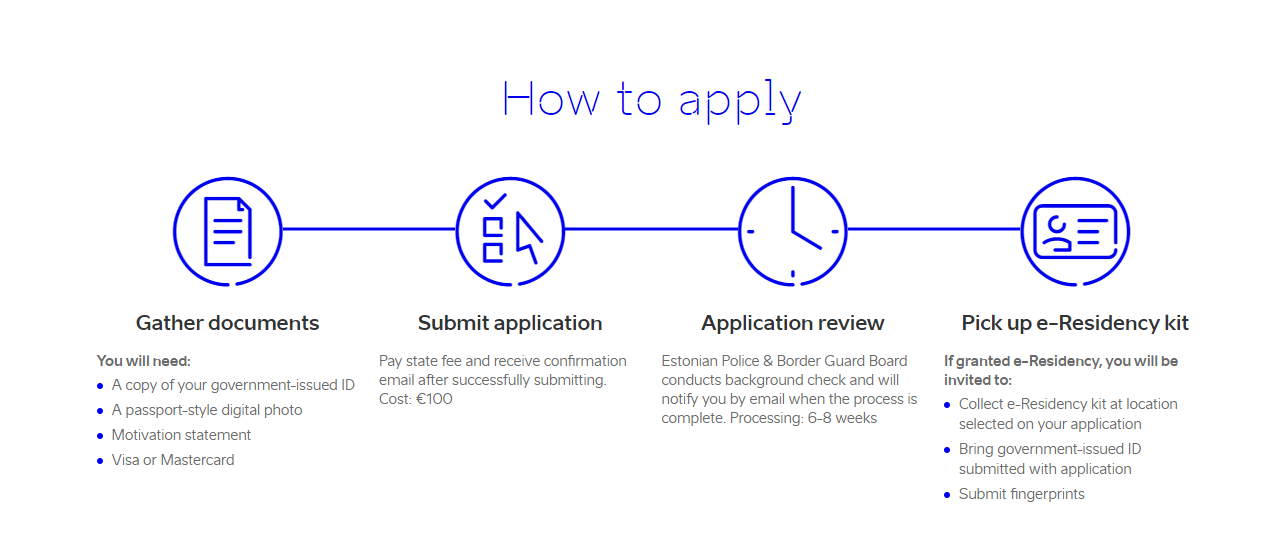 Step 1: Gather documents
Government-issued ID: You will need to submit an image of your travel document. Note, when you pick up your e-Residency digital ID card, you must bring the same travel document you used for the application. If the document you used on the application expires before picking up your e-Residency card, you must bring a renewed, valid copy of your travel document and, if possible, also the document used in your application.
Digital photo: The application requires you to provide a passport-style photo. You can take the photo at home using a digital camera, but we recommend you take a look at the requirements defined on the application before taking a photo. Check also below how to take a passport-style photo at home.
Motivation statement: Write an explanation as to why you are applying for e-Residency. Be sure to mention anything notable about your past business experience as well as your future business plans.
Visa or Mastercard: You will need to pay the state fee with a Visa or Mastercard. For details please see Costs and fees article.
Step 2: Submit application
Submit your application online.
In accordance with § 112 (2) of the Identity Documents Act, you must fill out and submit your application personally. Submitting the application through an intermediary (including legal bureaus and other service providers) is not allowed.
You will need to select your pick up location when you submit your application. It's not easy to change this later, so choose wisely. See the next step for the estimated time of arrival.
Step 3: Application review
The review process generally takes between 8 and 30 calendar days. The median processing time is 20 calendar days, but PBGB reserves the right to extend it as they deem necessary in each case. During this time, PBGB may contact you by email for additional information during the course of their background check.
If approved, in general, it will take an additional 2-5 weeks for your e-Residency kit to be printed and sent to your pick up location. For more on this process, see our application status article. Make sure you will regularly check the email you provided on the application and do check the spam mailbox too.
Step 4: Pick up e-Residency kit
Once your e-Residency kit has arrived at your pick up location, you should receive an email with instructions or an invitation to schedule a time to pick it up. Note, you will need to bring the government-issued ID you submitted with your application and be prepared to be fingerprinted. You will need to collect your e-Residency kit within (6) months once it has arrived. After that document will be sent back to Estonia and will be destroyed. Read more in Pickup locations article.
PS: During this time you will receive
Application updates from the Estonian Police and Border Guard Board;
Notification to collect your document from an Estonian embassy, external service provider or PBGB, depending, which one you chose as your pickup location;
Emails from the e-Residency project team (if you allow us to send you communications, personalized offers and information to assist you in starting and operating a business in Estonia).
Important notice regarding the coronavirus!
Due to the spread of the coronavirus and related travel restrictions, the usual 6 month period for collecting the e-Residency kit from Estonian Embassies may be extended upon the specific request of an applicant.
In order to make this request, please directly contact the pickup location specified in your application (https://e-resident.gov.ee/become-an-e-resident/#available-pick-up-locations). In case you want to change your chosen pickup location due to the coronavirus, please directly contact the Estonian Ministry of Foreign Affairs at konsul@mfa.ee for further instructions.
Application process FAQ
I don't understand the process
More information about the application process can be found on the PBGB website here.
Alternative payment method for Visa or Mastercard
The payment can be made with a Visa or a Mastercard credit and debit cards. The payment of the state fee can also be done on your behalf by someone else with their Visa or Mastercard. Note, a bank card with the Visa or Mastercard logo is sufficient. There are no more alternatives for paying the state fee.
Can I pay later?
Without the payment of the state fee, the application will not be saved online and will not be forwarded for processing.
Payment fails
Supported cards for the payment are VISA and MasterCard Credit and Debit cards. If your card is VISA or MasterCard, please check, if the card is valid for e-commerce transactions and if the card is enrolled for 3DS transactions.
Length of your name
Digital ID cards have two lines for the first name (15 + 15 characters) and one line for surname (28 characters). Please note that according to the Estonian Identity Documents Act § 91, section (2) if your first name is longer than 15 + 15 characters and your surname longer than 28 characters, the letters at the end of the name which cannot be supplied in the corresponding data fields shall not be written. The fields in the system do not allow for more characters.
Example of a first name
FABRICE STÉPHANE PATRICE shall be written as FABRICE STÉPHANE PATRIC
Example of a surname
MOHAMEDELBAGHIR ABDELMAHMOUD OSMAN shall be written as MOHAMEDELBAGHIR ABDELMAHMOUD
No surname
If you do not fill out any field, the name missing will be replaced by "-". Please take this into consideration as later complaints will not be admitted and the state fee will not be returned based on such complaints.
Unknown characters in your name
The Police and Border Guard Board can use for the documents only the letters available at their database according to the ICAO letter conversion rules.

The letters that they do not have, are substituted with letters available.
Personal identification code
A national identification number, national identity number or national insurance number is used by the governments of many countries as a means of tracking their citizens, permanent residents, and temporary residents for the purposes of work, taxation, healthcare and other government-related functions. This personal identification code generally appears on government-issued identity documents.​
You can read more about identification numbers in different countries here: https://en.wikipedia.org/wiki/National_identification_number
If your country does not have a personal identification code, please choose "Not applicable in my country of citizenship."
Identification document requirements
The identification documents accepted by the Estonian Police and Border Guard Board are passports or European Union identity cards. The document needs to be issued by your country of citizenship. Other documents are not accepted when applying for e-Residency. For example, if you are a citizen of a country x, but a resident of a country z, you will need to provide a document issued by country x.
The copy of your identity document must be in colour. Black and white copies are not accepted.
If you upload a copy of your ID card (EU citizens only), please be sure to upload copies of both sides of the document (the front and back).
My identification document does not expire
The application will require you to provide a date of issue and date of expiry for your identification document. If you cannot provide these, please choose another identification document that displays this information.
My country is not listed as a pickup location
For security reasons, we are only able to issue e-Residency digital IDs from the official locations listed on the application. For your pickup location, you can choose a location from the list most convenient to travel to from your location.
Please note that a pick up of your e-Residency digital ID within another country does not provide you with the legal right to enter that country. Before you select a pickup location and submit your application, please verify you have the ability to enter the country and obtain any necessary travel visa.
Note, once your e-Residency digital ID has arrived at the embassy, you will need to collect it within (6) months.
Country is not listed on the application as citizenship/country of birth
E-Residency project is run by the Republic of Estonia and the application form is based on countries recognized as independent states by our government. You will attach a copy of your passport to the application, so please do not worry, issuing officer will see the detailed information about your citizenship.
Communication is by email
The processing of applications is electronic. If the official processing your application needs to clarify details or pass on important information, they will contact you via email.
Please make sure that the email address you provide in the application form is valid and check your emails regularly so that you do not miss communications from the Estonian Police and Border Guard Board official.
Please note the emails might go to your spam folder, so it's advisable to check your spam folder during the application process.
I changed my name. How can I get a new e-Residency digital ID?
If your name changes, you will need to apply for a new e-Residency digital ID. This will require you to pay the state fee again. If you know your name will change in the near future we would advise to wait and apply once you have received a new identification document that displays your new name.
Can I change the information associated with my application?
Contact the Estonian Police and Border Guard Board directly at
info@politsei.ee
and they will forward your request to the issuing officer. Please also provide your full name and date of birth or the application number.
Can I cancel my application?
An application can be withdrawn as long as the procedural decision is pending. In order to cancel your application, please contact the Estonian Police and Border Guard Board directly at
ppa@politsei.ee
as soon as possible. They will be able to cancel your application should you provide them with your full name and date of birth. If you cancel before proceedings have commenced on your application, you can request a refund of the state fee. To request a refund, you will need to complete a form and send it to the Estonian Police and Border Guard Board. You can find the form and contact information
here.
How to take a passport-style photo at home
Watch the video tutorial or follow the instructions below:
Step 1: Set the background and lighting
The background must be plain and even-coloured (preferably light grey);
Avoid loud patterns or furniture on the background;
Avoid poor lighting, that causes heavy shadows on the face;
Use natural lighting, so your skin tone is not distorted;
Make sure the photos are not too bright or too dark.
Step 2: Ask a friend to take the photo
Look into the camera (a common mistake is the classical selfie-effect when a person is looking at the phone screen and not into the camera eye);
The photo must be taken in frontal view;
Keep your head straight, no angles;
Your face should take up 70-80% of the height of the photograph;
Keep a neutral facial expression. Sorry, no smiling on the passport-style photo, please :)
Step 3: Upload the photo
This photo will not be on the document, so please, do not photoshop it (e.g. blurring the skin-tone, enhancing eyes etc. )
Use only .jpg . jpeg format
File size minimum of 1.0 MB and a maximum of 5.0 MB, minimum of 1300 x 1600 pixels.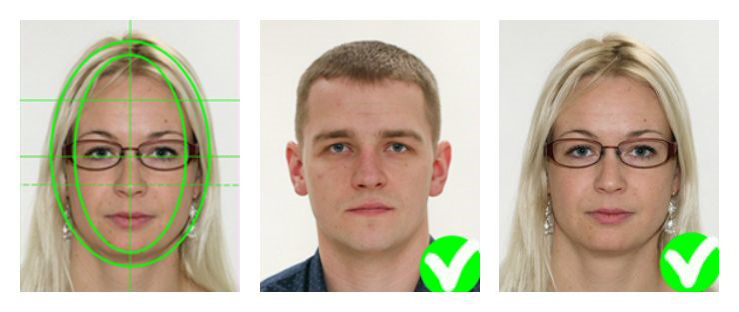 When you submit a bad quality photo, processing of your application will take longer. Save your time and time of the processing officer by submitting a good photo from the start.